I wrote this post for
RichmondMom
. You can read the full post
here
.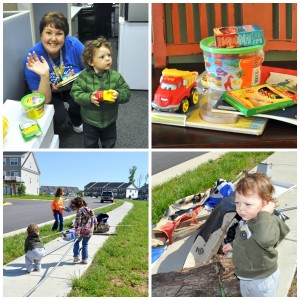 Donations to the VCU Children's Hospital (2102) and Community Clean Up (2010)

If the word Philanthropy connotes an act of giving reserved only for the wealthiest or most privileged families, think again!
To be a Philanthropist simply means to DO GOOD by sharing your talents, interests, and resources of time, money, or voice. Acts of giving will look different for every family, but any effort, big or small, which blooms with intention to directly or indirectly improve the human condition now or for future generations, that's Philanthropy!
Ready to get started? Here are a few ways you can cultivate a philanthropic spirit in your home:
Practice: The best way to begin to establish a new routine is to practice the desired behavior or skill. Integrate a tradition of giving, and communicate and nurture in your family life a value that says giving back is an important and worthwhile responsibility. Let the seasonal changes inspire your opportunities to give back, but don't save all your love for the Holiday.
Lead by example: Invite your kids to observe and participate in your grown-up acts of philanthropy, whatever they may look like. Demonstrate your personal commitment to the causes your family chooses to support and work alongside your kids to accomplish shared goals. By working together you'll foster a deeper connection with each other and develop a greater sense of purpose and belonging within the context of your community.
Identify or create an opportunity: Consider the shared interests of your family members, your combined availability, and the amount of time or money that you feel you can give. Let your child decide how he or she wants to get involved. Think big! Think small! Think local! Think International! The opportunities you choose should encourage a sense of awareness, appreciation, curiosity, and compassion for others. Above all else keep it fun and age appropriate.
Document and celebrate your efforts: Keep track of the work your family does, the causes you contribute to, the events you volunteer for, or the small acts of kindness that you offer to others. Maybe you'll take photos or video clips, keep a family journal, or create a wall hanging or poster to display in a common area of your home. However you choose to document your adventures, regularly review and celebrate all the ways your family works together to make your world a better place to live.