I wrote this piece for RichmondMom. You can read the full article here. ______________________________
I felt a kind of courage on Roscoe's first day of summer camp when his delight and anticipation for something yet unknown felt so much mine. We drove steadily across town with the windows open. The warm air blew through the backseat, and roared to the front where I watched him through the rear view mirror. He was a little quieter than usual, ruminating. "Mama, can you roll the windows up? I can't hear!" When the air fell silent he spoke with thoughtful pauses and upward inflections to question if the other kids would be kind to him. He wondered out loud about whether his teacher would help him out of a bind if he needed her.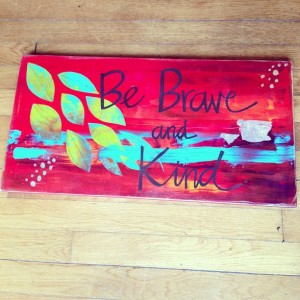 Wall art displayed in our playroom to remind us every day.
(Mixed media by the lovely Suzanne L. Vinson
)
I assured him, with genuine enthusiasm (tempered by the hesitation I felt from the weight of my own looming questions), that he was going to meet buddies at school and that, with the help of his teacher, they would work together to take good care of each other.
But the truth is that I couldn't promise that kids would be kind or that his teacher would be available to help him if he was in need of rescue. I couldn't guarantee that my little guy, who had been home with me for his first four years would follow direction, get along in a crowd, or manage his emotions as I know he can, but often doesn't.
I parked the car and helped him out of his seat. He positioned his back pack just so and as we walked to drop-off he trailed a step or two behind me. He perked up as I reminded him that I would be back in a few short hours and that the suspense would kill me until then: I couldn't wait to hear all about his day.